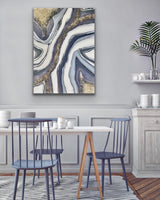 MODERN RESIN ART
Inspired art that combines resin, metallic pigment and crystals.
ALCOHOL INK
A highly-pigmented, acid-free medium that marbles with vibrant color.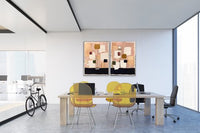 ABSTRACT
Shapes, colors, textures and forms that create visceral imagery and provoke raw emotion.
REIKI INFUSED
Channeling spiritual healing energy into art, Reiki infused pieces create an essence of positive light, well-being and stillness .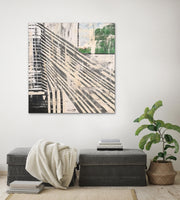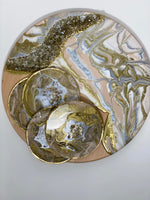 CUSTOM HOME ACCESSORIES
Custom Cheeseboards, Coasters, Trays, Jewelry and Trinket boxes all designed/customized between artist and client.
WHAT OTHERS ARE SAYING
ALISON HAS A PROFOUND WAY OF SUSSING THE MAGIC OUT OF THE MUNDANE. THE PAINTINGS SHE DESIGNED SPECIFICALLY FOR MY LIVING ROOM ARE BOTH INTIMATE AND ENTIRELY TRANSFORMATIVE. I COULDN'T HAVE ASKED FOR ANYTHING MORE.

JENNIFER, SC
I ADMIRED ALISON'S ART FOR MONTHS ON INSTAGRAM BEFORE CONTACTING HER FOR A CUSTOM PIECE. SHE DESIGNED THE MOST STUNNING GEODE WORK OF ART FOR MY HOME. WALKING ME THROUGH THE PROCESS MADE ME FEEL REALLY CONFIDENT THAT I WOULD LOVE THE PIECE SHE WAS MAKING. WHEN IT ARRIVED, I LOVED IT SO MUCH THAT I ORDERED A SMALL BEACH-STYLE PIECE FOR MY BATHROOM!

TIFFANY, NY
WOW! IF YOU ARE LOOKING FOR SOMEONE TO CREATE A UNIQUE ART PIECE FOR YOU WHILE USING HER TRUE PASSION AND IS ABLE TO SPRINKLE IN YOUR PERSONALITY, ALISON SATTERLEE IS YOUR GIRL. I LOVE MY RESIN GEODE ART PIECE THAT ALISON RECENTLY CREATED FOR MY DINING ROOM WALL. HAVING NEARLY ALL NEUTRAL TONES IN MY HOUSE, I REALLY WANTED A UNIQUE POP OF COLOR ART PIECE BUT NOT TOO "OVER THE TOP". I WAS HAVING TROUBLE TRYING TO FIND THE PERFECT PIECE AND SAW A FEW PIECES THAT ALISON CREATED ON INSTAGRAM . I DECIDED TO GIVE HER A TRY. FIRST OF ALL, FROM START TO FINISH, WORKING WITH ALISON WAS INCREDIBLY QUICK AND EASY. SHE CAME OUT TO LOOK AT MY ROOM AND IMMEDIATELY DREW IN COMMON DESIGN THEMES AND WHAT WOULD WORK FOR THE SPACE. SECONDLY, NOT ONLY IS SHE TALENTED AND HAS A DESIGN EYE, SHE HAD GREAT COMMUNICATION ON THE STATUS OF MY MASTERPIECE ALONG THE WAY. COLLIDING THESE TWO TOGETHER RESULTED IN MY ART VISION COMING TO LIFE!
SHE HAS AN INCREDIBLE TALENT, THANK YOU ALISON FOR MY BEAUTIFUL ART PIECE!

SARAH, SC
I HAVE ALWAYS BEEN IN AWE OF THE ARTISTIC VISION AND TALENT THAT ALISON HAS. SHE IS MY REIKI THERAPIST AND, OF COURSE, FRIEND. AFTER SPENDING A MUCH NEEDED SESSION WITH HER, WE TOOK A MOMENT SEPARATELY TO WRITE DOWN WHAT WE SAW. WE BOTH SAW THE SAME THING. OUT OF THIS EXPERIENCE, SHE CREATED MY MOST FAVORITE ART PIECE IN MY HOME. SHE WAS ABLE TO TAKE EVERYTHING WE SAW AND CREATE A PAINTING THAT MOVES AND SPEAKS TO ME DOWN TO MY SOUL. SINCE THEN, I HAVE PURCHASED MANY OF HER PIECES FOR GIFTS. SHE IS THE FIRST PERSON I THINK OF WHEN I NEED BUY A GIFT THAT WILL BRING SO MUCH JOY. I FEEL LIKE WHEN I GIVE SOMEONE ONE OF ALISON'S PIECES, I AM GIVING THEM THE GIFT OF ABSOLUTE LOVE

KIM, SC